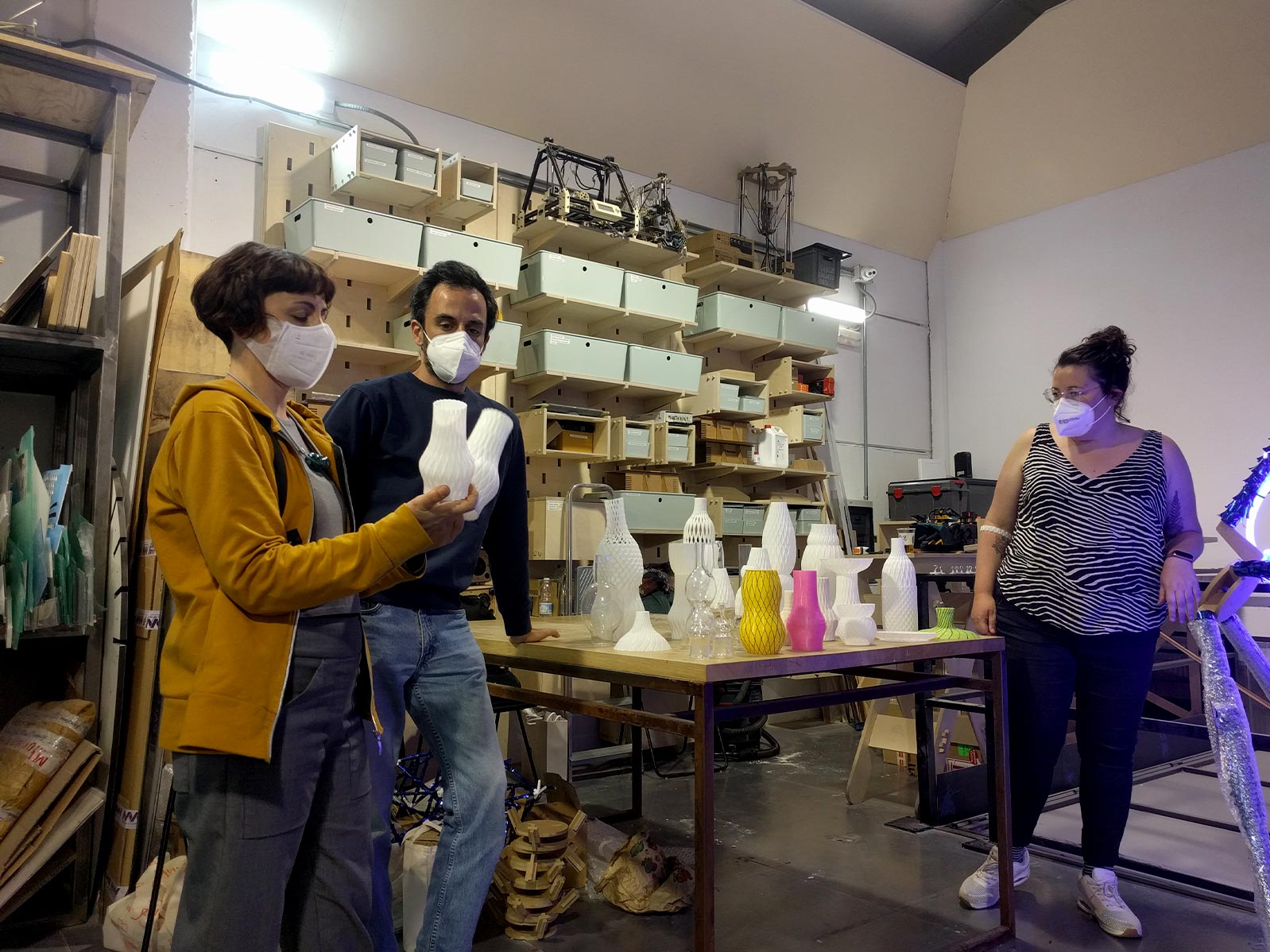 Tiziana Chiara Marina Valls and Antonio Dominguez in iAtelier
Tiziana Chiara (@sio2glassjewelry), Marina Valls (@senoravalls) and Antonio Dominguez (@materialculturestudies) have been working these months in iAtelier, within the Crafting Europe project. For their project they experimented with 3d printing, laser cutting, CNC and even vinyl cutting, looking for the best techniques for the development of their pieces inspired by Manises ceramics. The project wants to redefine the way to face the future of the Spanish ceramic tradition with new techniques, design and production processes supported by digital manufacturing.
Tiziana, Marina and Antonio have formed a perfect combination of professionals with complementary profiles and skills. They are developing a choral project that involves working with glass, ceramics and graphic design. The relationship of the elements in this project is very interesting, as it starts from a very deep and innovative conceptualization in design, to materialize with delicate glass interventions on porcelain pieces.
They have made "molds" or "three-dimensional templates" of PLA 3D printing, on which to manually place the ceramic in position. This combination of media generates quickly replicable pieces that retain their handcrafted aura. Parametric designs have also been programmed and printed directly onto porcelain, with the collaboration of Lowpoly. One of the next steps is to explore the most suitable packaging for this product.
We share with you some images of the work of Tiziana Chiara Marina Valls and Antonio Dominguez at iAtelier, in the Production Residence.
Many thanks to Tiziana, Marina and Antonio for their participation.
It has been a pleasure for EXarchitects and Fábrica de Fabricantes to work with you.